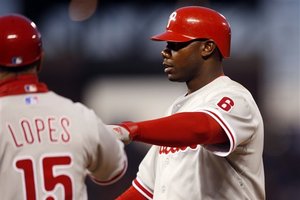 Time to get down off the ledge. Put away the Eagles schedule. Forget about those calls to trade the entire team. This Phillies team of 2009 might actually know how to play some baseball.
Against the Rockies on Saturday, the Phillies showed that if you clog the bases, hit a few balls a long way, and get some decent pitching, you can actually win some baseball games.
Brett Myers turned in a signature performance – giving up four hits, three of them home runs. Thankfully, he walked only one and the only other hit was a double, so he gave up only 4 runs altogether. Ryan Madson and Brad Lidge pitched perfect 8th and 9th innings.
The plan worked as the hitters finally came alive. Ryan Howard and Jayson Werth had key hits and Raul Ibanez proved he's this year's April 2008 version of Pat Burrell. We'll take it, as he has 2 of the team's 3 home runs so far.
It's an easy game. Hit a little, pitch a little, and you win games. Today the Phils can actually win a series in early April. Whodathunkit?
Source : thegoodphight.com