The police are baffled by the mysterious death of a track worker whose body was found in a horse stable just a few hours after I'll Have Another was crowned champion of the Kentucky Derby.
Police continue to investigate the case and has ruled the death as Homicide but they have no suspects. The body was found just few barns away from where I'll Have Another was stabled.
Autopsy results were expected later Monday for 48-year-old Adan Fabian Perez.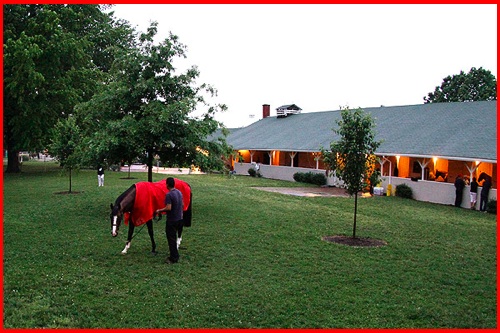 Authorities have no suspects but stressed that Perez's killing had no apparent connection to the iconic horse race.
Louisville Police Lt. Barry Wilkerson said investigators are asking witnesses to come forward. There were several altercations in that area of Churchill Downs on Saturday night, and police are trying to determine if Perez's death is connected to any of them, Wilkerson said.
"Our investigation is ongoing as to why he would have specifically been at this location," said Alicia Smiley, spokeswoman for Louisville Metro Police.
As police called for witnesses, life on the backside of the track returned to normal, with trucks and horse trailers passing through the gates and hot walkers and exercise riders finishing their morning shifts giving horses their workouts. Hot walkers walk the horses to cool them off after a heavy workout.
Carlos Gomez, a 28-year-old exercise rider, said workers were talking about Perez's death, but it wasn't disrupting their work with the horses.
"Nobody knows what happened," Gomez said.
Laura Belzia, a 38-year-old hot walker, said fights sometimes happen in the cramped quarters of the horse barns, but it doesn't normally escalate to killings. Belzia, who lives in apartments outside the track, didn't know Perez. But she said some of her co-workers may be reluctant to talk to police, either out of fear of the person who committed the crime or because they are in the country illegally.
"Nobody is going to tell what happened," Belzia told The Associated Press. "Sometimes people here … get scared and quit talking."
Although Montano's barn is near where this year's Derby winner is kept, there was little talk of the incident Sunday in the stable area.
Instead, I'll Have Another's trainer and owners were participating in the usual post-Derby media interviews and speculating about the next race in the Triple Crown, the Preakness Stakes, in three weeks.
About a week after last year's Kentucky Derby, jockey Michael Baze's body was found in a vehicle near the stables at the famed Louisville track. His death was ruled an accidental drug overdose.
Something is wrong with all the "deaths" surrounding Kentucky Derby. Maybe someone will soon blow the lid-off.