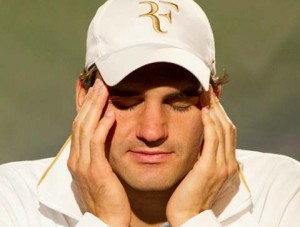 Tennis Sensation Roger Federer's hopes of a seventh Wimbledon title are over after Jo-Wilfried Tsonga's superb comeback ended the third seed's campaign in five sets.
Roger Federer Stunned with Jo-Wilfried Comeback
The Swiss born player, who was looking comfortable after winning 2 sets of the match lost the remaining 3 sets 3-6 6-7 (3-7) 6-4 6-4 6-4  to the energetic Jo.
Jo Wilfried self-belief has made him through with a win.  He has earned the victory and deserves an applause for his comeback.
Tsonga will now play Novak Djokovic in his first Wimbledon semi-final, while Federer was left to reflect on another quarter-final defeat after last year's loss to Tomas Berdych.
Federer Promises Comeback
"Except the score, many things went right," said Federer after his defeat.
"I was pretty pleased with my performance today and at least it took a special performance to beat me. He played an amzing match and didn't give me much hope."
The Seventh Straight championship dream of  Federer comes to an end with this defeat