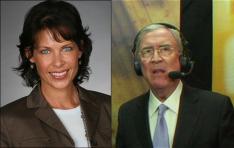 ESPN announcer Ron Franklin sweetcakes remarks against co-reporter Jeannine Edwards made sure that he is pulled off from his play-by-play duties!
According to Sports by Brooks, Franklin called ESPN-TV reporter Jeannine Edwards "sweetcakes" when she attempted to join a conversation with ESPN announcers Ed Cunningham and Rod Gilmore during a production meeting before Friday's broadcast of the Chick-fil-A Bowl.
When she told Franklin not talk to her like that, Franklin reportedly said, "okay then, a-hole."
Edwards then reported Franklin's comments to ESPN management. After confirming the incident with Cunningham, the network tried to pull Franklin off Friday's broadcast but were unable to find a replacement due to the late notice.