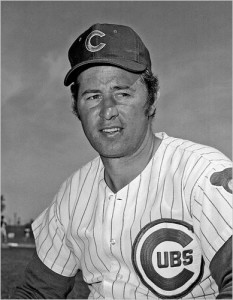 Ron Santo, a star third baseman of the Chicago Cubs and their longtime broadcaster who became a revered figure for his exploits on the field and his battle against juvenile diabetes, died Thursday in a hospital in Arizona. He was 70.
The cause was complications of bladder cancer, said WGN Radio, where Santo was a Cubs color commentator.
Playing for the Chicago Cubs from 1960 to 1973, then for a final season with the Chicago White Sox, Santo hit 342 career home runs, won five Gold Glove awards for fielding and was named an All-Star nine times.
He was a key figure on the 1969 Cubs team that was leading the Mets by 13 games in August before collapsing. That team gained a particularly agonizing niche in the star-crossed history of the Cubs, who have not won a pennant since 1945. But Santo endeared himself to the Bleacher Bums in their hard hats at Wrigley Field that summer by clicking his heels with joy after victories.
That Santo was on a major league field, let alone starring alongside the future Hall of Famers Ernie Banks, Billy Williams and Ferguson Jenkins, seemed remarkable.
When he took a routine physical in 1959, on the brink of making his Cubs debut, Santo was found to have juvenile diabetes. He began taking insulin within two years, but kept his diabetes a secret from the Cubs until being named to his first All-Star team in 1963, fearing that management's knowledge of his illness might have damaged his career. He did not allow the public to know of his diabetes until his final years with the Cubs.
After his playing days ended, Santo raised millions of dollars for diabetes research, and for more than two decades he sponsored an annual walk-a-thon to help seek a cure. The disease took a heavy toll on him. He had heart attacks, went through quadruple-bypass surgery, then underwent amputation of his legs, in 2001 and 2002, but continued as a Cubs color commentator with WGN, using prostheses. He also underwent surgery for the bladder cancer.
"I was diagnosed with diabetes at age 18," Santo told The Chicago Sun-Times in 1990. "I didn't know what it was, so I went to the library and looked it up. I can still remember the feeling I had when I read the description: Life expectancy of a juvenile insulin-dependent diabetic: 25 years. It also stated that it would cause blindness, kidney failure and hardening of the arteries. At that point, I said to myself, 'I'm going to fight this thing and beat it.' That's how badly I wanted to live and be a big league ballplayer."
Santo, a native of Seattle, was signed by the Cubs' organization after high school, and when he first appeared at Wrigley Field, he was transfixed. "I used to watch the 'Game of the Week' from Seattle, and every time I saw Wrigley Field, I couldn't believe it," he told The Denver Post in 2004. "Then when I walked into Wrigley Field with Ernie Banks … We came out of the clubhouse in left field, and I'm walking down on the grass and I'm looking out to the outfield, and the ivy hadn't quite blossomed yet, but it was close. It was like walking on air. There was a feeling of electricity that I've never had."