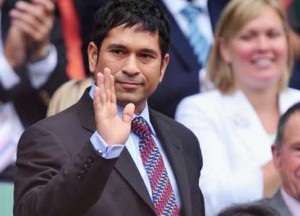 Today was probably one of those exciting day when Legends from different field met and shared their time with each other.
Sachin Tendulkar, the cricketing legend, whose record might perhaps never be broken if even by Sachin himself, was one among the cheerful crowd at the Wimbledon Championships match. We also had Former Grand Slam champion Martina Navratilova present at the crowd watching the match.
Roger Federer, the tennis legend, who has more number of grand slams in his belt than any other tennis  player, whose record of winning straight six tournament is perhaps will remain unbroken for decades to come, was at the center of the court  preparing for the match with David Nalbandian.
When Sachin Tendulkar presence was felt by the fans with his introduction , the crowd went crazy and started cheering for him.
Is it said that when too Icons met, the air goes tense and cold. However, Roger Federer kept himself patient and secured an easy win over David Nalbandian.
It is reported that both Sachin and Federer had dinner together after the match
Lets hear what Sachin and Federer has to say on their meeting
Sachin tweeted, "Spent an hour with Roger Federer chatting on the balcony of Wimbledon Royal box. What a humble guy! And by the way he knows a lot about cricket!!"
Federer  talked about his meeting with Tendulkar on his facebook page.
"Today was a special day, played a good match and had the chance to catch up with the great indian cricket star Sachin Tendulkar," read the status message on his facebook page.