Sachin Tendulkar has shocked the cricketing world by accepting the very fact  a cricketer hates to speak.

Sachin Tendulkar, the Legend in the cricketing world, has accepted the fact that he sledged Australia's fast bowler Glen McGrath to keep the momentum in the cricket match and to give India a chance to win the match with the then-powerful Australian attack.
According to the book SACH by Gautam Bhattacharya as reported in Yahoo, Tendulkar says
"I have never sledged  merely for the sake of sledging. I did that only once as a part of team strategy. This was at the Kenya Champions Trophy. We were playing Australia."
Tendulkar describes how he irked McGrath with a cheeky line.
"The match was played under overcast conditions. The wicket was also very damp. I had told Sourav before that I would do something to upset McGrath's rhythm. So, in the very first over, I stepped out to him. The first thing I said to him was 'Today I will hit you out of the ground.' He got really angry and started spraying the ball around. This was exactly what we wanted. As on that surface, he may have been very dangerous."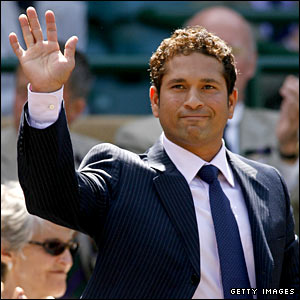 "We did win that match ultimately and I felt very happy. My sledging did work for the team."
"My own experience of sledging came very early on my first tour to Australia. I remember having blocked a delivery and the ball landed near my foot. I tried picking it up when Allan Border shouted from gully, 'Don't touch the ball.' So I stopped immediately."
Gosh, this changes things isnt it. Sachin is known as a gentleman in the game but even the Cricketing gentleman has sledged.
Lol!  How can a game be competitive without sledging. The sledging done by Sachin created good competition between India and Australia. I guess it must have been a treat to watch.
In the meanwhile, what is your reaction on Sachin Tendulkar comments on his own sledging.