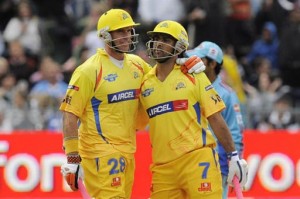 Most of his compatriots have developed cold feet about playing in the Indian Premier League in the wake of Shiv Sena's threat but retired opener Matthew Hayden said he is very much looking forward to be part of the third edition of the Twenty20 extravaganza. Hayden, who represents Chennai Super Kings in the IPL, said he never had problems in India and the country meant a lot for him and his family.
"I can say that I have been welcomed in all parts of India as a brother and friend of the country, which is a great privilege and I'm humble about it. Over a long period of time, I acknowledge, what India meant to me, individually and to my family as well. I'm looking forward with great confidence to playing in IPL," the towering Australian said.
"In every tour, generally what happens that it is in player's discretion to decide whether he wants to play or pull out because of personal reasons or other reasons. Obviously the matter now rests in the players' hands," Hayden said.
He conceded the players and the Australian Cricketers' Association were concerned but felt the Aussies would be part of the tournament if the franchisees keep them updated about the security issue.
Australian players' IPL participation became uncertain after Shiv Sena said they would not allow any Aussie cricketer to play here unless the attack on the Indians did not stop Down Under.
Source : Yahoo! News