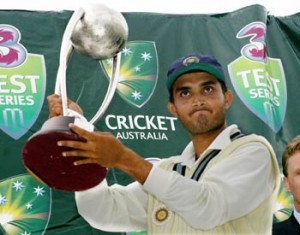 Sourav Ganguly, the legendary Indian Captain and the former Kolkata Knight Rider captain has been left out unsold in the IPL 4,2011 auction.
What a surprise!As a cricket follower, i felt this as a personal embarrassment for a person who has contributed a huge part of his life for the welfare of the Indian Cricket.
Not 1 team out of the 10 present there showed any signs of interest to buy the veteran player, which remained me about the true goals of a businessman.
Although Ganguly is aged 38, and is considered old for the T20 games, his fans went on rampage at Kolkata citing any insult to their hero is an insult to them.
Players that remained unsold apart from Sourav Ganguly are Chris Gayle, Mark Boucher, Jacob Oram, Sanath Jayasuriya, Brian Lara.
It will be very interesting to note on how the reactions will be among the fans and the other cricketers as Ganguly remained unsold in latter part of the auction.
I believe this might be the end of the player we know as Ganguly. The readers should note that Ganguly retired from international cricket on 2007. After which he completely retired from all forms of cricket at 2010.
His participation on IPL 3, 2010  itself was unclear which at the last moment he agreed to captain Kolkata knight riders.
If your a Ganguly fan, share with us on how you feel about the IPL 4 auction.