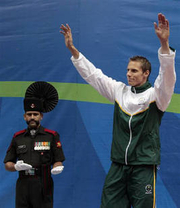 Lol, a good way of defending your act. But the truth is what you have said cannot be taken back Roland.
Roland Schoeman,an South African swimmer  on Saturday called an Indian spectator 'monkey' because he was shouting,shouting,shouting and making noise.
One thing i dont understand is that, if you take soccer, football, cricket all the fans support their home country and shout like buffons. But Mr. Roland dont find that a noisy situation???
A more accurate example i would like to mention is the latest  Cricket tournament that happened in South Africa. The tournament that was named Championship trophy 2010 saw Chennai Superkings Vs Warriors ( a local south African team). In the match, the South African fans shouted like hell all over the game and when they realized their team (that is Home team) made into Semi Finals they shouted like …… To use the word of Mr. Roland Schoeman   "Monkeys".
I ask, Has the fan got no authority to shout and encourage their home team. Why did he call him Monkey.
If his own country man does that, he says its ok but if its from other country where people are black then there is an issue for him.
I am utterly disappointed with this . In my view, the Swimmer has lost his respect.
Here's the defending comments from the South African Swimmer
"It wasn't meant to be a racist remark — in South Africa when someone calls you a monkey they mean hooligan," the Pretoria-born swimmer said after winning the 50 metre freestyle silver.
"You know it's an absolute disgrace. There's a guy in the stands just shouting, shouting, shouting. Someone like that needs to be ejected from this place," he said.
"It's unacceptable to be at a professional event like this and have the stand and have people going on like monkeys. That's not acceptable. Someone like that does not deserve to be here."
Schoeman said his remark was not a general comment on the crowd as a whole.
"The comment was aimed at only one individual who was acting like a hooligan," he said.