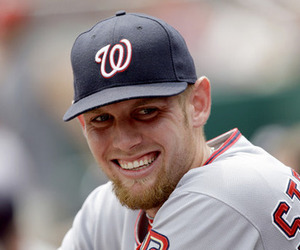 Stephen Strasburg becomes the latest candidate for Tommy John Surgery and we quote in disappointment.
What is Tommy John Surgery?
Tommy John surgery, known in medical practice as ulnar collateral ligament (UCL) reconstruction, is a surgical procedure in which a ligament in the medial elbow is replaced with a tendon from elsewhere in the body (often from the forearm, hamstring, knee, or foot of the patient). The procedure is common among collegiate and professional athletes in several sports, most notably baseball.

The surgery is named after Tommy John, a pitcher who was the first professional athlete to successfully undergo the operation in 1974. The procedure was performed by Dr. Frank Jobe, who also serves as a Special Advisor to Los Angeles Dodgers chairman Frank McCourt.
The Nationals announced Friday that a magnetic resonance imaging test revealed a significant tear of the ulnar collateral ligament in his pitching arm. The team said he was headed to get a second opinion and if the original diagnosis is confirmed, he would have the surgery immediately.
That means only 12 games into his major league career, Strasburg, 22, is facing a 12-to-18-month recovery from the operation and perhaps another season to recover his form. Strasburg, the No. 1 pick in the 2009 draft, seemed headed for superstardom and now looks like a lot of young pitchers whose arms fail suddenly.
"It's a tough day for him and for all of us, for everyone who's a Nats fan," the Nationals' president, Stan Kasten, said in a conference call with reporters on Friday, a day after Jordan Zimmerman pitched for the first time after his Tommy John surgery a year ago. "We saw Jordan come back last night. A year from today, Stephen will be joining him."
This is disappointing to see a rising star fall due to the injury.  Critics believe that this may not be an end for Strasburg as the similar type of surgery was done to several sportsman and they all returned very powerfully.
"The player was developed and cared for in the correct way, and things like this happen," Nationals General Manager Mike Rizzo said in the conference call. "Pitchers break down, pitchers get hurt and we certainly are not second-guessing ourselves. Frustrated? Yes. But second-guessing ourselves? No."
Strasburg was not made available on the conference call for comment. He is headed to California for the second opinion, the team said.
"As you can imagine, he was initially upset, but he has really turned himself from being upset to being focused on his rehabilitation," Rizzo said. "He's determined to get the surgery done and begin the process of rehabilitation."
I Wish you easiest of operation and quickest in recovery Stephen Strasburg.