Hear it what we have come across. It seems that Stone Cold factor may return back to Monday Night Raw on March 7th 2011.
Boy, i could not wait. First we have a huge storyline building up between John Cena and Rock. Both the superstars are digging each other to the core and now we see the iconic Stone Cold Steve Austin supposed return this march.
As reported in wrestlenewz, Steve Austin is scheduled to appear on the March 7th, 2011 edition of Raw, which will take place at the American Airlines Arena in Dallas.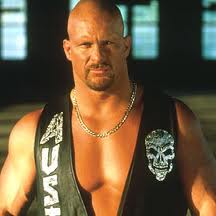 The building is advertising his appearance on the show. Austin is currently taping the upcoming season of the new/old series "Tough Enough" for WWE.
What if Stone Cold "Steve Austin" is really the Anonymous General Manager of  RAW? Boy, that will the most thrilling aspect in the history of WWE. Do remember, we are in the beginning of very healthy feud between the Rock and Cena, if Steve Austin returns as the GM then the Hell will be brought down in the WWE.
If Steve Austin is really the GM, What do you think will Austin do? Will he support the Rock or Cena. Lets wait and watch.