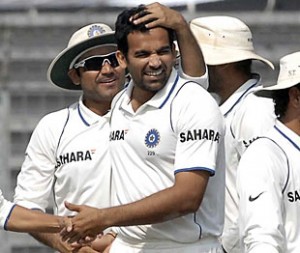 Indian cricket team's  humiliating loss in ICC t20 world cup episode is still to be forgotten by angry fans and team  India has landed themselves in a New Pub Brawl.
Sources report that Zaheer khan had a  pub brawl with angry fans who questions khan's right to celebration after loss in the tournament.
Its reported that team India were on the pub to have some beer where fans gathered around them and raised slogans against them.
Yuvraj singh had to rush to Zaheer khan's  side to stop him from furthur brawl with the fans.
The incident is not going to stop here. It will rise heat  on already angry fans.  Zaheer Khan should watch his back!!!