With the final match of the group stage between India and West indies held on March 20, 2011 concluding with India winning against the west indies, we now know the 8 teams that would compete in the quarter finals stage in the ICC World cup 2011.
The teams qualified from Group A as per the leading the table are
1) Pakistan        2) Sri Lanka
3) Australia      4) New Zealand
The teams qualified from Group B as per the leading the table are
1) South Africa           2) India
3) England                  4) West Indies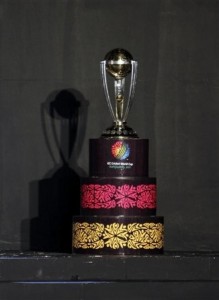 Thats cool! But, which team will actually compete with the other team in the quarter finals??? Any Clues??
Yeah, we do have the list of which team will compete again the other thanks to the statistics given above.
Its official that
Pakistan will play against West Indies on Wednesday, March 23,2011

Australia play against India on Thursday, March 24,2011

New Zealand play against South Africa on Friday, March 25, 2011
Sri Lanka play against England on Saturday, March 26,2011.
Who do you think will win the quarter finals in the ICC World Cup 2011. Choose your team and leave us a comment here.