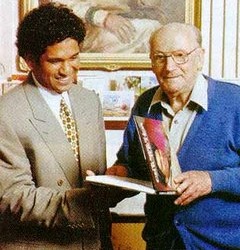 Iconic Indian batsman Sachin Tendulkar, who on Sunday became the only cricketer in history to have scored 50 Test tons, emerged runaway winner over Don Bradman in a poll commissioned by an Australian newspaper on who is the best batsman of all time.
In an online poll conducted by the "Sydney Morning Herald" asking readers to vote for "The greatest batsman ever: Bradman or Tendulkar?",Tendulkar secured 67 per cent of the votes as against Bradman"s 33 per cent. 20768 cricket fans voted.
Tendulkar seemed to have got votes from those who took into account that he played in three formats of the game and against 10 countries while Bradman played in only Test matches and primarily in Australia and England only.
"Tendulkar is better than Bradman. Tendulkar has played three forms of the game to Bradman"s one. Tendulkar has played around in many different pitches, against a variety of bowlers, and is the highest run getter in Tests and one dayers. Undisputedly, the BEST EVER," one comment said.
"Bradman scored a total of 7000 runs of which 5000 plus were against one country. He played only against four countries in an era where not many matches were played in a year. He did not face too many world class bowlers, with the fastest being Larwood who bowled supposedly at 95 mph," another post said.
"I am Australian. I love Don Bradman …. But my unbias thought is Sachin is Greater. Sachin has more than 30,000 Runs. He is playing in an era where every ball is analyzed and taken note of. Yet 12 nations have not found the way to stop this man.
"When Bradman played cricket .. . it was not analyzed as we do it today. Bradman only played Test and that to only in ENG and AUS. This 30,000 runs, 50 Test hundreds, 45 ODI hundreds, 200 runs in ODI stands out for Sachin and that"s why he is greater," another fan said.
Those who consider Bradman better than Tendulkar felt the Australian legend played on uncovered pitches at a time when there was no helmet and yet he had a near hundred average.
"Bradman – no helmet, uncovered pitches, higher average, no advantage of a modern bat, more centuries per innings – enough said really. Tendulkar is the best in the modern game, but Bradman is hands down the greatest," one cricket fan commented.
"No brainer in my view, but no doubt that both were legends of their era. There are two many variables to make an accurate comparison across eras. Conditions, equipment, frequency of matches, quality of opposition. 99.94 is the stand out for me," another comment said.
But some felt the comparison was futile as the two legends played in different eras.
"Sounds foolish to compare players from two different eras. Numbers don"t count much when the conditions are so different. Same debate has been on comparing Pele and Maradona," a comment said.