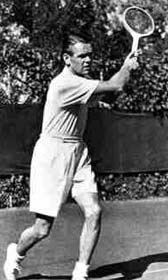 John Albert Kramer, the wimbledon star and the united states single champion, also a Well known Legend of the Tennis world has died.
The report of his death was announced  by ESPN's Cliff Drysdale in the on going semi final match between Rafael Nadal  and Juan Martin Del Potro.
John Kramer is a powerful promoter of Tennis of his days and is regarded as the most influential personality of the tennis history.
John Albert Kramer was born in Las Vegas on Aug. 1, 1921, the son of a brakeman for the Union Pacific Railroad. He learned to play tennis in the Los Angeles area as a teenager when his family moved there. His idol was Ellsworth Vines, the former United States Nationals and Wimbledon champion, whom he played against in workouts.
Kramer won the united states singles championship at 1946 and he consecutively retained the title at 1947. He won his first ever wimbledon title at  1947.
Kramer also  took over as promoter of the pro tour in 1952 and expanded it into an international operation, the players transporting a portable court in a host of one-night stands. In a 12-day period in 1957, Kramer's entourage made 11 appearances in 8 cities, from South Africa to the Philippines.
Wilson Sporting Goods sold millions of Jack Kramer-autographed wooden racquets, Kramer receiving a percentage of the sales revenue. He was a longtime commentator for American network broadcasts and for the BBC at Grand Slam events.
The dead of Kramer is a huge loss for the game of tennis. His talent was well spoken by his way of handling tactics for the tennis game. His loss can never be fulfilled by any other person.