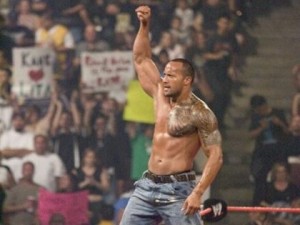 Sounds exciting right!!!  There is a huge bunch of changes that is happening in WWE world. Recently this oct 2,2009 Smackdown celebrated the  Successfully completion of the show for 10 years.
Its been tagged as "Decade of the smackdown" . This episode had many exciting events with   The Animal "Batista Facing Kane". And  also a  8 man tag team  match up which is a first time in WWE history.
The superstar included for the match was   John Cena (WWE champion), The Undertaker, Degeneration x (Triple H and Shawn Michael)    Vs  The Legacy ( Randy orton, Ted Dibiase, Cody Rhodes) and  C.M  Punk (WWE heavy weight champion). The result for the match is well known one.
As a  special message to the show, The Rock spoked up  a recorded message for the viewers  adding
" I was there at the start of Smack down,  The name that was taken from  my book"
At the end of the speech , The Rock hinted that  " He is desperate to  be  A guest of Monday Night Raw  and the WWE universe can see him as a guest host soon"
Oh boy, that will surely be a special episode, if THE ROCK host monday night Raw