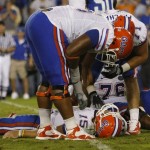 This is breaking news on Tim Tebow injury. Gators quarter back and possibly the best one in college today injured himself when deciding what to do with the ball. Tebow literally got slammed by the Kentucky defense and took a hard blow on his head.
One could make out shocked faces among the legions of Gator fans. The Florida number one team were out of state, and in Kentucky grounds when Tim Tebow took a big slam dunk from Kentucky defensive player Taylor Wyndham.
Tim Tebow's head bumped against the shin of Florida right tackle Marcus Gilbert as Tebow hit the ground. The slam was so bad that Tebow lay motionless for a few minutes before he sat up on the ground. Subsequently after that Tebow was assisted off the field to the bench. Here Tebow was joined by his parents who were concerned about his safety.
While on the benches, Tebow was seen vomiting and throwing up. There were also reports that he was taken by the ambulance to the hospital for check up.
Tim Tebow's quarter back position was filled in by second starter John Brantley.
If you are a Gators fan, and you have any other info regarding this incident, please post it below. Convey your best wishes to Tim Tebow for speedy recovery as well.
Here is the you tube video on the accident
The credit for the post  goes to   techbanyan.com/