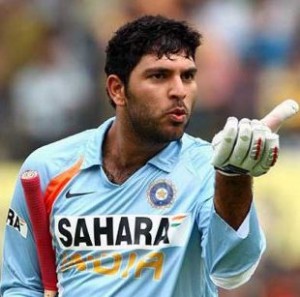 Indian Star Cricket player Yuvraj Singh, has said, " "I'm recovering well yes its tough but tough times don't last tough men do! I will fight and come back as a stronger man cause I have the prayers of my nation!"
Yuvraj who is currently in Boston for the 1st level cancer treatment blames himself for the delay in treatment decision, applauds the role of BCCI and his home doctor.
"I see few people trying to blame my guruji for delay and bcci! Again wrong it was my decision! The president and the members of bcci have bin a huge support in my tough times and because of them I'm getting the best treatment! Thank you again bcci," Yuvraj wrote on his 'Twitter' page.
Thanking all the fans and friends behind his success, Yuvraj singh said, "Thank you again to all my friends back home! Thank you to the media for there support and respecting my privacy," he wrote.
"Thank you to (sports minster) ajay maken! mr omar abdullah and mr narendra modi for there kind words!"
"Thank you sahara shree (IPL team Pune Warriors owner) for his support and thinking bout me as his family!"
Yuvraj singh, in a ghoosebumping tweet, added, "and of course everyday I look forward to come back and wear my india jersey my india cap and represent my country again jai hind"
For all you Yuvraj Singh fans out there, i leave you with the video which turned Yuvraj Singh the player to Yuvraj Singh the Man