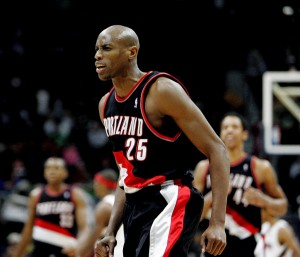 When Travis Outlaw visited the New Jersey Nets to discuss a possible pairing, there was an "instant connection" between the 25-year-old small forward and coach Avery Johnson.
It was quickly followed by a contractual one, as Outlaw has agreed to a five-year deal worth $35 million that will be signed next week.
"There was a conversation between Avery Johnson and Travis, and there was an instant connection," Outlaw's agent, Bill Duffy, explained to FanHouse via phone. "I think Travis understands that with new ownership and the direction, there's a sense of urgency to turn this thing around. Travis is experienced, but he's still relatively young. He feels like he can be a centerpiece as a starter and really demonstrate his value to all of the NBA."
The deal, according to Duffy, is fully guaranteed. It comes after a courting process in which Outlaw had discussions with Portland, the Clippers, New York, Minnesota, and — to a lesser extent — Chicago. The agreement was first reported by ESPN.
Outlaw, who was taken 23rd overall in the 2003 draft out Starkville (Miss.) High School, spent his first six seasons as a reserve in Portland. His best seasons came from 2007 to 2009, when he averaged 13.3 and 12.8 points per game, respectively, in those two seasons.
He was traded to the Clippers midway through last season, then averaged 8.7 points and 3.6 rebounds in 23 games after being dealt in the swap that sent Marcus Camby to the Blazers.