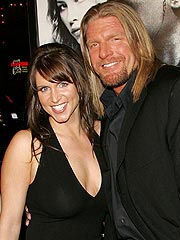 It seems that Triple H has done with the WWE as an wrestler. He has been promoted to an Executive position within WWE and now working in the office. His official title is Senior Adviser and will be working directly under Vince McMahon on the creative side. A new office was being put together for Triple H in Stamford this past week.
Triple H, 41 years old, has not yet revealed any plans on retirement.
Meanwhile, there is a good news for all Triple H lovers, Stephanie McMahon has given birth to their third child who is a baby girl. She is yet to be named.