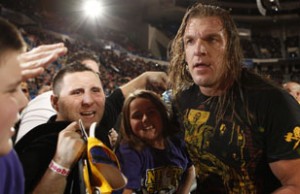 WWE fan appreciation day was a night unforgettable for many reasons. My favourite reason is Triple H return. And the return was in style, he came out to rescue John Cena from the Nexus assault. So does Big Show and Randy Orton rushed out to save Cena.
So,its fair in love ,politics and WWE. Yep, just months back, Randy Orton and Triple H were arch rivals, also the rivalry between Randy Orton and John Cena is unforgettable. But now, the superstars have kept their past behind them and rushed out to rescue Cena.
Results of WWE fan Appreciation day:
John Cena def. World Heavyweight Champion Kane by Disqualification
With Kane's scheduled opponent Big Show winning an Intercontinental Title Match in the event's opening Battle Royal, Raw's anonymous General Manager and SmackDown GM Theodore Long chose a surprise replacement for Kane's title defense. When the opening chords of John Cena's music played, the XL Center fans jumped to their feet with a deafening roar!
The match was cut short when Cena put Kane in the STF and Nexus raided the ring, resulting in a disqualification. Wade Barrett, Justin Gabriel, David Otunga and Heath Slater then attacked Cena. The heinous assault prompted WWE Champion Randy Orton to rush the ring, followed by the entire WWE locker room, led by Triple H!
With The Game, The Viper, Cena and Big Show left standing in the ring, Cena thanked the crowd for supporting WWE and its Superstars and Divas, while many of the roster spread out into the crowd for autographs and photos with the WWE Universe as the show ended.
"From each of us, who do this each and every week because we love it, thank you," Cena said.
Triple H def. Alberto Del Rio
Intercontinental Champion Dolph Zigger def. Big Show (w/ Hornswoggle) by Count-out
WWE Champion Randy Orton def. Wade Barrett
Sheamus def. John Morrison
Melina wins WWE Divas Dance-off
United States Champion Daniel Bryan def. The Miz (w/ Alex Riley)
Big Show wins 24-man Over-The-Top-Rope Battle Royal