Are we seeing a feud building up between the game "Triple H" and  the deadman "The Undertaker" ? Yes we are!

What Triple H vs Undertaker facing each other?Are you joking?
Lol, let me tell you what happened this monday night raw aired on Feb 21,2011.
The Iconic Undertaker returned back to raw but before we see Undertaker completely getting settled in the ring, Bang! came a sound " Its time to play the Game" followed by the dazzling entrance from Triple H.
Both   superstars stare each other and performed their own gestures. Undertaker making the throat gesture, in return Triple H giving  him the DX chop. Cool!
Lets come back to reality, its Wrestlemania around the corner and we were missing both Icons Undertaker and Triple H.
What benefit will it give Wrestlemania 27 without the presence of these stars, who have been known for Wrestlemania heroics!
As fans prayed to see these stars, they both returned which means both need a opposition to face this Wrestlemania 27.
Why not they face each other? After all it will be a perfect feud, Triple H wanting to take revenge on Undertaker for retiring his long time friend Shawn Michael's. It makes sense.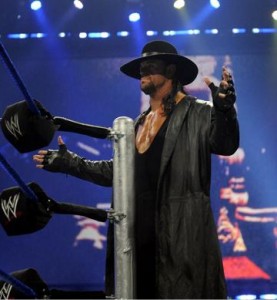 I must admit a key factor is  troubling me. Undertaker is remained unbeaten in Wrestlemania history with 18-0. After nearly a year, Triple H has returned. If the script writers want Undertaker  to remain unbeaten then definitely Hunter has  to lose. This will make me sad.
If they want to show Hunter in the spot light then surely Undertaker's unbeaten streak has to be broken 18-1.
Whow, this is really going a deep conversation. In the end, i just hope both the superstars not retire. I think, Its not just me thinking Undertaker retirement is around the corner. Dont you think the same???
Share with us your comments.