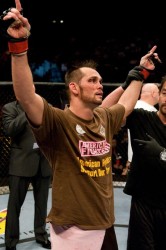 The legendary career of hall of fame former light heavyweight champion Chuck Liddell likely came to an end on Saturday, as he suffered a first-round knockout to former middleweight champ Rich Franklin in the main event of UFC 115 in Vancouver, Canada.
Liddell connected with powerful kicks early in the first, then tagged Franklin with punches late, but ultimately run into a right counter by Franklin in the closing seconds that knocked him out cold with just 5-seconds remaining in the frame.
The finish became even more impressive when Franklin revealed that his left arm was broken blocking one of Liddell's kicks, but "Ace" fought on to score his first KO since 2005 and improve to 27-5.
With the loss, Liddell falls to 21-8 and has now lost 5 of his last 6, including three-straight knockout defeats.
In the UFC 115 co-headliner, veteran Mirko Cro Cop showed he's far from finished as he overcame two opening round knock downs to choke out fellow heavyweight Pat Barry late in the final round.
Barry blasted Cro Cop with right hands in the first, instantly causing his face to swell from likely broken bones, but failed to follow up for the finish, a mistake he'd soon regret as a resurgent Cro Cop fought back strong in the second before doing to same in the third, finally dropping Barry with a flurry of punches before making him tap to a rear naked choke with 24-seconds left.
In other main card bouts, Martin Kampmann dominated Paulo Thiago in a battle of top welterweights, controlling his way to a unanimous decision, Ben Rothwell edged an exhausted Gilbert Yvel, and Carlos Condit came from behind to score a TKO of prospect Rory MacDonald with just 7-seconds left.
The UFC 115 prelims included Evan Dunham dominating lightweight contender Tyson Griffin en route to a split decision victory, while Matt Wiman claimed a controversial submission win over Mac Danzig.
The complete UFC 115 results were:
MAIN CARD

Rich Franklin def. Chuck Liddell via KO (punches) – Round 1, 4:55
Mirko Cro Cop def. Pat Barry via submission (rear naked choke) – Round 3, 4:36
Martin Kampmann def. Paulo Thiago via unanimous decision (30-27, 30-27, 30-27)
Ben Rothwell def. Gilbert Yvel via unanimous decision (30-27, 29-28, 29-28)
Carlos Condit def. Rory MacDonald via TKO (strikes) – Round 3, 4:53
PRELIMINARY CARD
Evan Dunham def. Tyson Griffin via split decision (30-27, 28-29, 29-28)
Matt Wiman def. Mac Danzig via submission (guillotine choke) – Round 1, 1:45
Mario Miranda def. David Loiseau via TKO (strikes) – Round 2, 4:07
James Wilks def. Peter Sobotta via unanimous decision (30-27, 30-28, 30-27)
Claude Patrick def. Ricardo Funch via submission (guillotine choke) – Round 2, 1:48
Mike Pyle def. Jesse Lennox via technical submission (triangle choke) – Round 3, 4:44
Credit for the post goes to             mmafrenzy.com