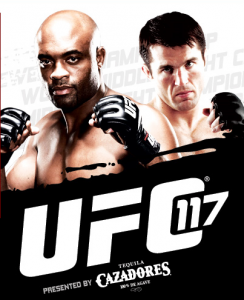 The video of  UFC 117 Post-fight Press Conference  can be seen by clicking here
Thanks to fightgameblog.com, Here are the highlights from the post-fight press conference:
(The press conference started without Chael Sonnen and Anderson Silva, but they came in midway.)
– The bonuses: KO of the night went to Stefan Struve, fight of the night went to Silva/Sonnen, and both Anderson Silva and Matt Hughes won submission bonuses. The bonuses were $60,000.
– Dana said people want the rematch, but Vitor (Belfort) is also waiting. He's not sure what they're going to do. He says what happened tonight is the stuff that makes legends.
– Dana on Sonnen – "He put himself on the map last week by saying some crazy shit." But he also backed it up in the octagon.
– Matt Hughes said he usually starts slow and he caught him with a submission that he (Almeida) might not have seen before. He'll come back early next year to talk with the UFC and figure out what they're going to do.
– Jon Fitch said that he was surprised that Alves accepted the docked purse and didn't cut try to cut the weight. He'll accept it as an early wedding gift.
– Dana said fact of the matter is that Alves didn't make weight and everyone else did. This was in response to Fitch saying he was really close.
– Fitch knew exactly what Alves was trying to do and it made it a lot easier. He wanted to stand up and get to his feet at every opportunity.
– Fitch said he's not thinking of Koscheck. He's just thinking about his wedding.
– JDS said the fight lasted all three rounds because Roy Nelson kept his hands up all three rounds. JDS said he's ready for the champion.
– Dana said Alves needs to fight at 185.
– Dana said Matt Hughes is not in the twilight of his career and is always a threat. He said that Matt won't ever turn a fight down and is always ready.
– Dana's not sure what happens with Fitch after saying just the other day that it was a number one contender's fight. He said, but what you don't hear is Fitch saying he's not going to fight Koscheck. He's just not saying he will yet.
– Clay said he's a 155′er in a 145′ers body.
– JDS said he's really starting to pick up and enjoy wrestling like he did with boxing.
– Chael is devastated. He didn't get his hand raised. He'll live with it, but he's devastated.
– Someone spoke to Anderson Silva in Portuguese and Silva answered in Portuguese. No one translated in English. Dana asked Chael to decipher. Chael said that Silva wants to fight a rematch and do the reality show and they'll do big ratings. Everyone laughed.
– A Chael quote: "Fighting Anderson Silva is like eating Chinese food. Twenty minutes after I do it, I'm gonna want to do it again."
– Sonnen said he wouldn't do anything differently and he's not the type of guy to issue apologies. He said his heart was broken. It hurts really bad. He's a good fighter and he found a way to win. That's what champions do.
– Sonnen said when he talks, it's like a bomb going off and everyone around will get dirty. He said that everyone else should apologize except for him because if you get a mic in your face and say anything except that you want to champion, you should get a pink slip from Joe Silva. He said that if he has to go to 205 and do it, he will, or he'll go on a diet and go after Jose Aldo. That's just who he is.
– Silva said he wanted to finish this fight by submission as a sign of respect to Big Nog. He said that two weeks ago he injured his rib and the doctor didn't want him to fight, but he did.
– Silva said he didn't underestimate Chael, but the way he promoted the fight was a bit weird. But it's all good now that it's over. He still has work to do to help his guys out for their fights like Fajao and the Nog brothers, then he'll go home and spend time with his family before thinking about anything else.
– Chael said he will think about this when he goes to bed at night. He doesn't second guess staying busy because he had to control the position. "It's a fist fight in Oakland, CA in the middle of a cage."
– Dana said Chael talked a lot of smack and backed every bit of it up.
– Anderson Silva said that he didn't have anything against Chael. This is a sport. What happens inside the ring is in the fight. What ever is outside is in the past. He respects Chael and all of his opponents. The UFC is like a family. They should go outside and fight other organizations to show they are the best. Sometimes they have to fight their family.
– Chael said he doesn't hold anything against Anderson, but the truth is, if the commission allowed it and Dana moved out of the way, he'd fight him again right now.
– Chael said that Anderson won tonight, he was the better guy.