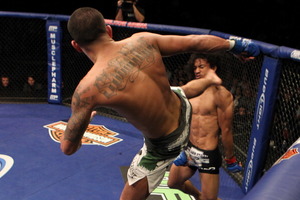 UFC President Dana White has refused to give Gray Maynard an immediate rematch after he fought light weight champ Frankie Edgar to a split decision draw.
Instead White will stick to his plans announced before the event to allow the final WEC light weight champion Anthony Pettis to get an immediate title shot to unify the WEC and UFC belts.
This may be a lucky break for Edgar who was very nearly finished by Gray Maynard in the first round.
Pettis is coming off a huge win in a five round war with Ben Henderson at WEC 53. He ended that fight with the now classic "Showtime Kick" off the cage.
Many pundits, including Bloody Elbow's Jonathan Snowden are calling for Maynard to get an immediate rematch:
Unfortunately, we will all be losers because of the UFC's insistence on booking fights so far in advance. We just saw a championship fight end in a draw, not a boring fight that no one wants to see again, but an action packed extravaganza. Should Frankie Edgar really go from this to fighting the WEC's lameduck champion Anthony Pettis?

I like Pettis for his potential and think he has a bright future. But why should he be given a title shot when he's never beaten a legitimate top ten fighter? We don't need to see Edgar-Pettis. We need to see Edgar vs. Maynard III and we need to see it as soon as possible.

I implore you to write to Dana White on twitter and ask him to do the right thing. Pettis can wait until there is a true winner in this epic battle between Edgar and Maynard. I, for one, would like five more rounds of top notch action from the best fighters on the planet. Let the champion and his challenger settle the score first – then give Pettis his time in the spotlight. This is what the sport has been waiting for, our first chance at an epic trilogy, the kind that define legacies in boxing. Let's see it Dana.
Gareth Davis of the Telegraph (UK) says Maynard was "robbed of the belt":
Frankie Edgar retained the UFC lightweight title by split points draw after an enthralling battle with Gray Maynard, weathering a heavy storm from the challenger and being put down three times in the opening round. Edgar recovered brilliantly in the second and surprisingly outwrestled the challenger throughout, yet a draw pleased no-one after five absorbing see-sawing rounds.

Maynard may feel robbed by the decision. It may have been drawn on the cards, but he certainly won the fight itself, inflicting serious damage on the lightweight champion.

It was one of the most compelling title battles in UFC history, technique, heart and great cardio to the fore. Edgar was taken down only a handful of times by a man who had taken him down 14 times in their only previous meeting  (Maynard the victor), and yet the champion may face pressure to move down to featherweight.