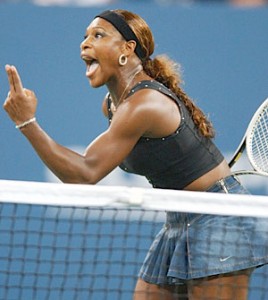 Oh Boy, Serena williams is back again in Breaking news but for wrong reasons.  Serena Williams has lost all her temper in the latest Semi Final match of the US open.
The incident occured during her Semi-Final match with Kim Clijsters, with Serena being called for a foot fault during her second serve. She then approached the line judge with a barrage of abuse, which led to a code violation against her, causing her to lose the point and match to Clijsters.
As you can see in the video, Serena certainly doesn't hold back in her choice of words, although they have been censored by the TV broadcasters.
I have added the video below, have a look at it