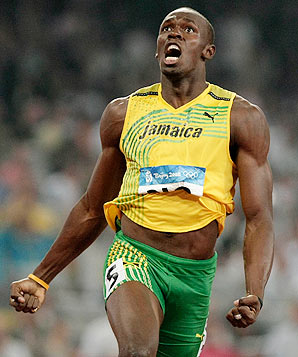 Usain Bolt also known as the world's fastest man has been beaten! Usain Bolt lost the very first race of the 2013 track season.
Usain Bolt was beaten by two runners.
The Olympic gold medalist, Usain Bolt of Jamaica, who broke all previous records of, got to be known as the World's Fastest Man. But looks like he is loosing his magic. Usain Bolt finished third in a 400 meter even in Kingston. He ended third behind two training partners Warren Weir and Yohan Blake. They were not racing head-to-head, however.
Bolt ran a 46.71 in his heat, while Weir (46.21 seconds) and Blake (46.64) both posted faster times in their heats.
"I'm happy, I've never been so nervous running a 400m, but overall I'm happy. Physically I felt good, not as good as I normally would, but overall I feel good," Bolt tells Reuters. "I didn't matter about the time, I just wanted to complete this race. I know I may have one more for the season, maybe two depending on what the coach wants."
Bolt is the world recorder holder in shorter events, the 100m and 200m races, but often competes in the 400m race at the start of each season to help build his fitness.
Looks like Usain Bolt has his strengths in short races.