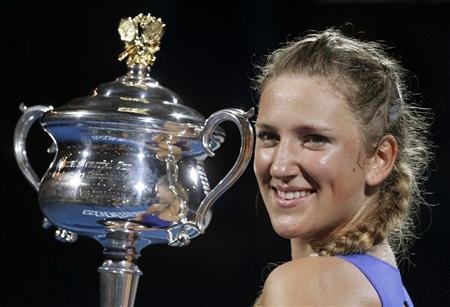 Victoria Azarenka won her first grand slam title and became the new world number one when she thrashed a disappointing Maria Sharapova in the Australian Open final on Saturday.
The third-seeded Belarusian overpowered the 2008 champion to win 6-3, 6-0 in 82 minutes to lift the trophy and become the fourth women's first-time grand slam winner in a row.
"I can't wait to be back next year, I've had an amazing month in Australia. It's a dream true," said Azarenka.
Azarenka came from 0-2 down in the first set to win 12 of the next 13 games for a comprehensive victory, as Sharapova's game disintegrated in the face of all-out aggression from the Belarusian.
Sharapova made 30 unforced errors, while Azarenka played almost flawlessly at times with only 12 errors across the two sets.
Azarenka won the toss and chose to serve, but she started nervously and dished up two double-faults on her way to dropping the first game.
Azarenka, who won the girls' singles crown in 2005, became only the third woman in the open era to win the junior and senior titles at the Australian Open after Evonne Goolagong Cawley and Chris O'Neil.
She is also the first Belarusian to win a grand slam title, going one better than Natasha Zvereva, who finished runner up at the French Open in 1998.