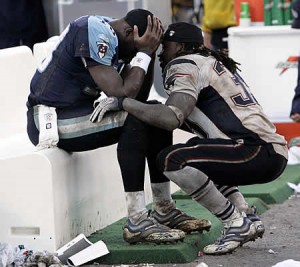 The Vince Young meltdown happened after the Tennessee Titans lost to the Washington Redskins with an overtime loss of 19-16 this past Sunday.  Vince Young, starting Quarterback of the Titans, injured his right thumb (his throwing hand), but his meltdown started before the injury occurred.
Young was reacting to the crowd's booing, and the Titans' coach, Jeff Fisher, didn't respond well to this.  Young was waving back to the crowd in a sarcastic fashion.  After injuring his thumb, Coach Fisher took Young out of the game because he saw his hand was injured, but Young threw a tantrum and left the field.
According to freep.com, Coach Fisher said, "He threw half his uniform in the stands. I think clearly that is no way to respond, and so we have some things that we have to sort out with him."
Sfgate.com reports, Coach Fisher said, "I am very disappointed.  I think his teammates are disappointed. You know, there is going to be frustration in losses. There is going to be, you know, there are times when you have to dig deep and fight and turn to one another. I don't think you run and so I am disappointed.''
Fisher says Vince Young will not be the Titans' starting Quarterback even if his thumb doesn't need surgery. Fisher appointed Rusty Smith as the starting Quarterback.
Our take:
The Titans have lost three straight games in a row and hopefully with Rusty Smith taking over as starting Quarterback, they can start winning some games. Vince Young didn't handle himself in a proud manner at all.  He was acting like a child by leaving his team and storming off the field.  It's no way for a professional player to behave, let alone the leader of the team, the Quarterback. Hopefully Young gets his act together before the season's end.