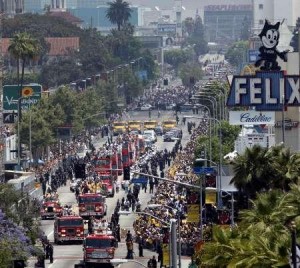 The Lakers parade, a parade to celebrate for Los Angeles Lakers won the 2010 NBA Championship against Boston Celtics and that parade is going on at Staples Center on Figueroa Street through the University of Southern California campus. The parade starting time is 11am PT on Monday.
The officials are expecting between 5, 00,000 and 2 millions fans to be lining the streets to welcome the star players. The city residents have been recommend to use public transports as a large portion of the downtown Los Angeles is shut down to the event.
Live stream coverage starts on CBS 2 and KCAL 9 at 10 am. Watch champion Lakers Parade 2010 Live coverage on CBS 2 and KCAL 9. Let's enjoy!
My FOX la Weblink:  To watch the  Live Lakers Parade via my fox la  CLICK HERE
NBA Weblink : Watch the parade via NBA   CLICK HERE