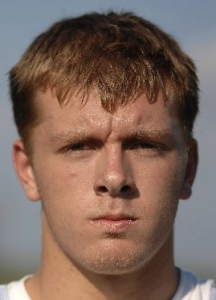 Wes Leonard, a Michigan high school's star basketball player collapsed on the court and later died after making a game-winning layup in overtime to cap his team's perfect season.
Wes Leonard of Fennville High died Thursday night, Holland Hospital spokeswoman Deb Patterson said. A cause of death has not yet been determined.
Paramedics performed CPR on the 16-year-old before he was pronounced dead at the hospital, Patterson said.
Leonard, a junior who also excelled as the quarterback of the Blackhawks football team, was "by far the best player on that basketball team – outstanding athlete," said coach Mike Miller, whose Bridgman team lost 57-55 to Fennville Thursday night.
"All of Bridgman's thoughts and prayers are going toward Fennville right now," Miller told The Associated Press Friday morning.
Grief counselors were on hand at the high school on Friday, the district said.
Leonard's mother, Jocelyn, is a choir teacher at the middle and high schools and is the director of Fennville High's production of "How to Succeed in Business Without Really Trying." A scheduled performance of the musical was canceled for Friday, and it's undecided whether there will be shows on Saturday and Sunday.
Chad VanHuis, a 21-year-old Fennville High graduate who once umpired Leonard's middle school baseball games and was his camp counselor, heard that Leonard had collapsed as he headed into work.