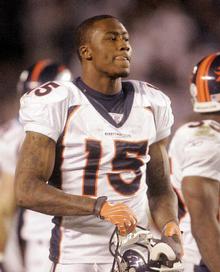 Borderline Personality Disorder, has become the most searched keyword  in the search engines  after an mind-blowing confession from one of the top NFL Football star.
Brandon Marshall who plays for Miami  Dolphins in the NFL football has gone public with his Mental illness and his sincere effects to overcome it.
Brandon Marshall in a press conference, said,   "I have a dream home, my house is beautiful. My wife did a great job putting our house together finding the right house for us. We have two nice cars, we have three beautiful dogs. But with all that said, I haven't enjoyed not one part of it,".
We all, knew, how Brandon Marshall was caught up in the fight with his wife last spring and how the cops intervened between them and took Marshall in custody last.
It seemed  to me that he was trying very hard to come out clean with the domestic incident with his wife as noted above.
Lets first learn a very introduction on Borderline Personality Disorder.
What is Borderline Personality disorder?
Borderline personality disorder (BPD) is a personality disorder described as a prolonged disturbance of personality function in a person, characterized by depth and variability of moods.

The disorder typically involves unusual levels of instability in mood; black and white thinking, or splitting; the disorder often manifests itself in idealization and devaluation episodes, as well as chaotic and unstable interpersonal relationships, self-image, identity, and behavior; as well as a disturbance in the individual's sense of self. In extreme cases, this disturbance in the sense of self can lead to periods of dissociation.

BPD splitting includes a switch between idealizing and demonizing others. This, combined with mood disturbances, can undermine relationships with family, friends, and co-workers. BPD disturbances also may include self-harm. Without treatment, symptoms may worsen, leading (in extreme cases) to suicide attempts.
As said, i feel it requires lot of nerve to come out in the open and explain the crowd of one's medical illness and its suffering.
Marshall's search of words to explain his situation was indeed the moment that spoked, hey this guy wanted to be helped.
Marshall said, "I wouldn't be able to articulate and paint a vivid enough picture for you guys to show you what I've been suffering from which in turns affects my wife, who's the closest person to me,".
Although, BPD  is medically complicated case and has no hope for a cent percent recovery,  researchers are confident on finding a good way of handling such Emotional Personality Disorder.
We, respect you and pray for your early recovery from this terrible disease Brandon Marshall.
To know more about the Borderline Personality Disorder, Click Here