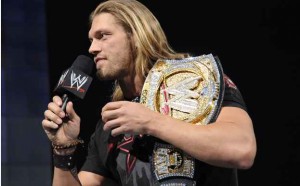 WWE's Iconic wrestler Edge retires from Wrestling.
As i predicted before Wrestlemania 27, Edge announced his retirement on Monday night Raw aired on April 11.
Edge who is known as the Rated R superstar, joined WWE in 1997 where he accomplished many titles defeating the then greats to become WWE champion. His latest title was in Wrestlemania 27 where he successfully defended his title against Alberto Del Rio.
Why did Edge retire from WWE?
Let us look deep into the fact  on why did he retire.
According to WWE.com, Copeland (Edge)  has been suffering from Neuropraxia, a spinal condition which caused numbness and trembling in the arms. He suffered a neck injury and underwent spinal surgery in 2003.
The website also states: "Medical professionals cannot clear Edge to compete ever again in WWE, since doing so could result in paralysis or even death."
The revelation caught most fans and wrestling insiders completely unawared and is thought to be legitimate and not part of a storyline.
WWE advertised Edge making a big announcement several times during Raw, even hinting at the fact it might be to announce retirement.
In an odd insight into how wrestling psyches worked, most assumed this would be a swerve. Sadly, it was not the case.
On Raw, Copeland addressed the live crowd, coming close to tears as they chanted "Thank you Edge". The cameras then caught up with him backstage as his colleagues broke kayfabe to form a guard on honour for him.
Well, another Legend has retired. Its sad for WWE who has already lost so many fans thanks to the retirement of Shawn Michaels.