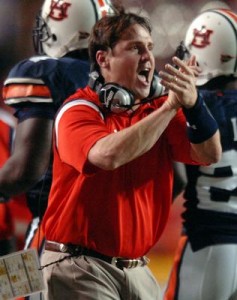 After waiting too long for coaching Texas, Will Muschamp has decided to turn the wheels and jump to Florida.
ESPN.com's Chris Low is reporting that the Florida Gators have hired Will Muschamp to succeed Urban Meyer:
Texas defensive coordinator Will Muschamp has accepted an offer to be the head coach at Florida, sources told ESPN.com's Mark Schlabach.

Muschamp, who just finished his third season at Texas, where he was the head-coach-in-waiting to succeed Mack Brown, replaces Urban Meyer at Florida.

The sources said Muschamp was the only person Florida interviewed.
If this is true, I say fantastic. Don't get me wrong: I have no doubt that Muschamp is a great coach and that he has the potential to lead Florida to plenty of success. If he didn't have the look of a potential head coach at a powerhouse program, Texas never would have agreed to make him the head-coach-in-waiting, and his experience in that capacity means that he's been groomed for the role by coaching great Mack Brown.
However, Muschamp has no head coaching experience. Given the choice between Muschamp and Dan Mullen, Bobby Petrino, or Bob Stoops, who would you pick? I'd pick Muschamp over anyone who has proven that he can succeed as a head coach, and frankly I'm surprised that a program like Florida–perhaps the nation's premier program–couldn't bag more of a sure-fire coach