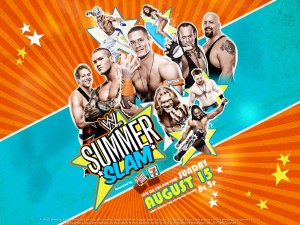 Here we are finally. The summerslam action is back. Unlike any other Summerslam, Summerslam 2010 has more cruel battle which will decide the future of WWE.
Yeah, am mentioning about the rivalry between Team WWE which includes John Cena, Bret Hart, Edge, Chris Jericho, John Morrison, R Truth and the undecided member against the evil Nexus.
Did you notice the new pic of Summer Slam uploaded here, it has Triple H removed but Undertaker pic is still there. I think we might see him today as the 7th member of the WWE team
To watch WWE Summerslam online Visit here
The list of announced matches that is to take place in this summerslam 2010 are
Rey Mysterio Vs Champion Kane for World Championship
Champion Sheamus Vs Randy Orton for WWE Championship
Team WWE Vs The Nexus
Match rules :A eliminated team member leaves the ring. A team will be announced winner when the opponent team has no members left
The Big Show Vs The Straight Edge Society (CM Punk, Joey Mercury, Luke Gallows)  in Three on one handicap match
Alicia Fox Vs Melina for WWE Divas Championship
Dolph Ziggler Vs Kofi Kingston for WWE Intercontinental Championship
I will update the results here once the matches conclude.
Results
Randy Orton def. WWE Champion Sheamus (Disqualification)
World Heavyweight Champion Kane def. Rey Mysterio
Team WWE def. The Nexus (Elimination Tag Team Match)
Intercontinental Champion Dolph Ziggler vs. Kofi Kingston (No Contest)
Big Show def. The Straight Edge Society (3-on-1 Handicap Match)
Melina def. Alicia Fox (New Divas Champion)
For full coverage of the results Visit Here