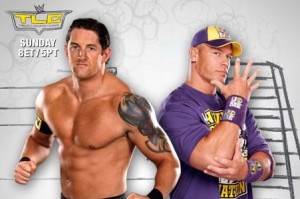 WWE TLC 2010 match results are out with a surprising results.
For one thing, i  never thought Edge will successfully defeat Kane and Rey Mysterio but he did! Congrats to Edge!
Randy Orton lose to Miz was really really disappointing.
For John Cena, i will only quote, Please stop playing the script and fight for real!
TLC 2010 match results:
Edge def. Kane, Rey Mysterio & Alberto Del Rio (New World Heavyweight Champion)

John Cena def. Wade Barrett (Chairs Match)

WWE Champion The Miz def. Randy Orton (Tables Match)

John Morrison def. Sheamus (Ladder Match)

WWE Tag Team Champions Santino Marella & Vladimir Kozlov def. Heath Slater & Justin Gabriel (Disqualification)

Divas Champion Natalya & Beth Phoenix def. Team Lay-Cool (Divas Tag Team Tables Match)

Intercontinental Champion Dolph Ziggler def. Kofi Kingston & Jack Swagger (Triple Threat Ladder Match)