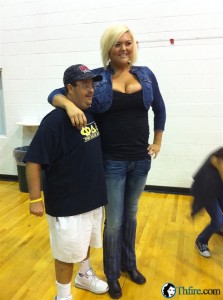 OMG!! Cant believe my eyes. There is an speculation surrounding WWE's latest diva sign up.
All Wrestling based websites support the new inclusion of the diva whose name is Isis. And it is reported that she is  6.9 feet high, just less than Big Show.
According to wrestling-edge.com, it is reported that Isis actually was present in both the episodes of Raw and smackdown sitting among the fans.
A fan in attendance at this week's show in Fort Myers, Florida says Isis had to ask FCW officials if it was okay to take photos with fans. To put Isis into perspective, she is just a few inches shorter than Big Show.
I am sure that she will be the new Wonder Woman of WWE.
For Photo gallery of  Isis The Amazon  visit our photo section
or Click here to view the pics