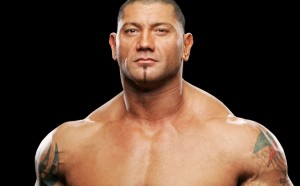 After being beaten by John cena again and again in all the Pay per views, the two superstars decided to put an end to their rivalry on Over the Limit special in an "I QUIT" match.
John Cena again claimed victorious as he made batista to say the humiliating words  I quit in the wwe championship match held on  24 march 2010.
On Monday night Raw, batista came in a wheel chair and was very badly hurt. He started claiming about the match with Cena when the new General Manager of Raw showed up.
Any guesses???? Well, Bret the Hitman Hart is the new General Manager of Raw. Bret interrupted Batista and announced the contender for the upcoming pay per view Fatal four way.
Disappointed Batista says "I QUIT" to WWE universe and leaves WWE!!!
For more on the Inside Story on Why Batista quit WWE      CLICK HERE