John Cena and Brock Lesnar went head-on-head against each other. While everyone believed the victory was in John Cena's pocket as Brock Lesnar was has not participated in any pro wrestling matches for a long time, in fact since 2004.
But, somehow Brock Lesnar won and it was one hell of a victory for Brock Lesnar. He destroyed John Cena to smithereens.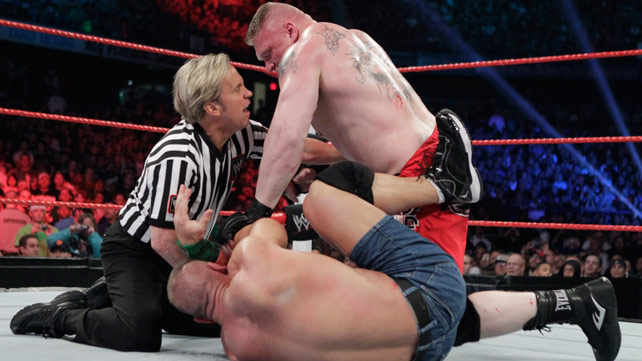 Brock Lesnar was the favorite to win the contest, as he had just recently returned to the company after an 8 year absence. When Lesnar arrived on the April 2nd edition of WWE Raw, he made a impressive impact by assaulting Cena. He then escalated the violence the following week by brutally pounding Cena, resulting in a bloody lip. Lesnar's loss may be meaningful, but in the grand scheme of things, it was his performance that really stood out.
In one amazing moment during the match, Brock Lesnar vaulted from the center of the ring and flew over the top rope onto John Cena. As Lesnar gracefully soared through the air, his foot got snared up in the ropes and he tumbled to the floor and fell flat on his back. The loud thud echoed through the arena. The tumble would've killed a regular man. But the hulking mass known as Brock Lesnar stood up and shrugged it off. His toughness and resiliency was established.
After a few more minutes of back and forth action, Cena was finally able to lift Lesnar onto his broad shoulders and deliver a standing firemans carry. Lesnar landed flat across the steel steps, which had been placed in the ring earlier in the match. As the referee counted three, the crowd erupted. The crowd in attendance weren't cheering for Cena or Lesnar. They were cheering because the bout they witnessed was an awe-inspiring landmark and a true example of what professional wrestling can be.
Though significant from a storyline perspective, Brock Lesnar's loss at WWE Extreme Rules was not the career killer. In fact, it may serve him best in the long run. Lesnar could not spend the next year being unstoppable. This victory serves as a reminder that Lesnar is human and can be beaten. And the match itself serves as proof that when you get the chance to see Brock Lesnar wrestle, you must tune in because you will not be disappointed.
A real disappointment for John Cena fans.