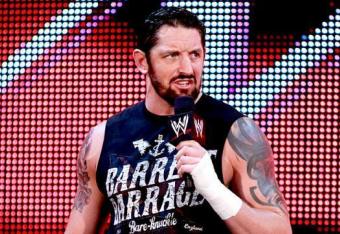 Wade Barrett has been making some serious shows after his return. But is his real target John Cena?
Wade Barrett upon returning, he declared himself "open for business."  What exactly did he mean?  Is he starting something similar to the APA during their beer-drinking, cigar-smoking business boom?  Is it his own loose definition of going into business for himself and taking out whoever he deems necessary?  Is something bigger in his plan?
I believe that last option is most likely, and all of it will lead to unfinished business with John Cena.
Let's go back to Wade Barrett's first days with WWE as the leader of the Nexus; a stable of rookies from then upstart show NXT who debuted by destroying everyone and everything on their first appearance on Raw.
At the front of this attack was, of course, Barrett—the winner of NXT.  He immediately took special interest in Cena and went to war with him for months, trading singles, tag team and elimination match wins and losses with Cena for six months.
By the time Barrett lost to Cena at WWE TLC in December of 2010, they had established one of the most heated feuds in wrestling.
And just like that, it was over.
Wade Barrett's lost glory can only be restored if he takes out John Cena. We bet he will do just that

Wade Barrett is just waiting for the exact moment, building momentum along the way.