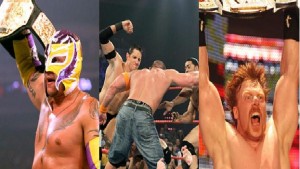 The WWE fatal four way has been concluded and the result are as follows
Sheamus won the WWE Championship Fatal 4-Way Match
Rey Mysterio won the World Heavyweight Championship Fatal 4-Way Match
Intercontinental Champion Kofi Kingston def. Drew McIntyre
U.S. Champion The Miz def. R-Truth
Alicia Fox won the Divas Championship Fatal 4-Way Match
Evan Bourne def. Chris Jericho
Unified Tag Team Champions The Hart Dynasty & Natalya def. The Usos & Tamina
NXT rookies enters the ring during the WWE championship match and attacked Cena very badly. After being badly beaten up, Sheamus uses this oppurtunity to pin John Cena and becomes the new WWE Champion.
Sheamus had a run of his life when the 7 nxt rookies turned towards him.
It is sure that NXT rookies will be coming this monday night Raw again. This story line is far from ending soon.
I expect to see rebellion again with Cena leading the way and kicking the a**  out of NXT Rookies!!!