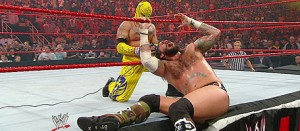 The WWE over the limit 2010 is on the way and we find some exciting and awesome results.
Yep, i said it because i am enjoying it.The greatest thing of all is
Rey Mysterio defeated CM punk and  shaves his head Bald.
Lol, the saint from the Straight Edge Society lost his purity.
On the other hand, R truth defeated  Ted dibiase.
Unified Tag team champions The hart dynasty defeated the miz and chris jericho .
Kofi Kingston defeated Drew Mcintyre and is now the new Intercontinental champion.
Match between Randy Orton Vs Edge ended in  Double Count out. As the two superstars looked to destroy each other outside the ring, referee counted a double count out and we have no result

Tactical Jack Swagger gets himself disqualified. Officially, Big Show defeated Jack Swagger by disqualification, but WWE heavy weight champion Jack Swagger retains the title with him , as the title cannot change hands through disqualification
Diva Champion Eve defeated Maryse.

The  WWE championship  Match is over . And the fortune favors the brave.
WWE champion John Cena makes Batista to say the two humiliating words "I Quit" to retain the championship.
After months of backlash since wrestlemania 26, the win over batista will make sure that the duo will no longer face each other for the wwe championship.
Thats it folks the results are updated.
For details information on what happened in the matches
visit the Official WWE website by clicking here