Sri Lankan bowler Lasith Malinga who is currently the most talked bowler after his excellent performance in the International cricket has all people praising him.
It was one of those days when i was sitting in office ' checking mails' where i came across a weird email from one of my colleague with a pic of a young man prompting me to  guess who it was.
Although i tried my best and scratched my head harder, i could not end up with the answer. Later on, i discovered the guy is none other than Lasith Malinga.
Holy cow, i was shocked to see him. I have uploaded the photo for you.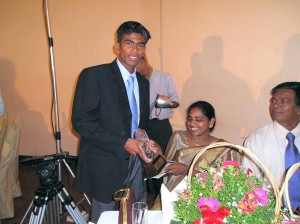 What do you think on the pic? Are you deceived! If yes, then you are not the only one buddy. Share this with your friends and let them knew how young Malinga looked like.