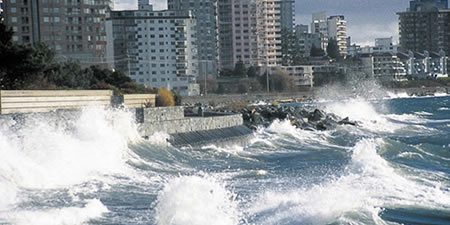 A major earthquake that rumbled across Vancouver Island was felt as far away as B.C.'s Okanagan Valley to the east and Seattle to the south, but caused no injuries and apparently little damage when it hit midday Friday.
The quake occurred at 12:41 p.m. at a depth of 14.3 miles, in the Pacific Ocean about 170 miles west of Victoria, the U.S. Geological Survey said.
Citizens Account the Earthquake
As reported via seattletimes.nwsource.com, "I was on the beach at the time, and it felt like the beach turned into a water bed," said Perry Schmunk, general manager of Long Beach Lodge Resort, about five miles south of Tofino on the west coast of Vancouver Island. "There was considerable shaking here."
Schmunk said it felt like the quake lasted about a minute, but he was not aware of any damage. It did not knock things off the shelves at the resort, he said.
There were no immediate reports of damage in Tofino and no tsunami warning was issued.
"It looks like a quake on a secondary fault — not on the megathrust, which was our big concern," said John Vidale, director of the Pacific Northwest Seismic Network at the University of Washington. "It's generating a fair number of aftershocks, but there's a very small chance this will stimulate activity on the big fault on the coast."
At Port Hardy, north of Tofino, airport manager Torin Domay said, "I was at my computer desk, and there was a sudden impact like a big wind or a jet blast, but then I realized it was the ground."
After the initial jolt, the quake caused "just a swaying motion" and seemed to last only seconds, Domay said. He had not seen or heard of any damage.
Stephen Halchuck, a seismologist with Natural Resources Canada, said the quake lasted for 20-30 seconds and rattled buildings across Vancouver Island and the southwest portion of British Columbia. He said there has been no immediate reports of damage in the region.
Gaylene Thorogood, a clerk at the Royal Canadian Mounted Police detachment in Ucluelet, said she didn't feel the temblor because she was in the building's basement. Her office received calls from residents who felt it but no reports of damage.
A receptionist for the city of Campbell River, B.C., on the east side of Vancouver Island, said she was sitting in a restaurant when she noticed a rocking motion that lasted perhaps 10 seconds. She said people who were indoors heard ceiling tiles creak or saw light fixtures sway, while others walking by on the sidewalk said they felt nothing.
There were also no immediate reports of damage in the closest parts of Washington state, including the northern tip of the Olympic Peninsula and the San Juan Islands.
The Washington State Department of Transportation dispatched inspectors as a precaution to check for damage to the Alaskan Way Viaduct, as well as the Deception Pass Bridge and the Highway 520 floating bridge.