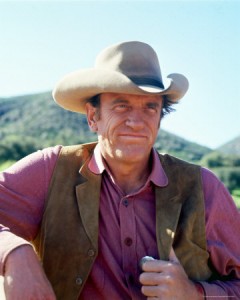 James Arness, the world war II veteran, known for portraying Marshal Matt Dillon, in the landmark TV western series "Gunsmoke," died today. He was 88.
Arness has the distinction of having played the role of Marshal Matt Dillon in five separate decades: 1955 to 1975 in the weekly series.
This Friday, Arness official website posted a letter that he wrote with the intention that it be posted posthumously: "I had a wonderful life and was blessed with … (so) many loving people and great friends," he wrote.

"I wanted to take this time to thank all of you for the many years of being a fan of Gunsmoke, The Thing, How the West Was Won and all the other fun projects I was lucky enough to have been allowed to be a part of. I had the privilege of working with so many great actors over the years."
Arness is survived by his wife  Janet, two sons and six grandchildren.
May be he knew his time is over on this planet. RIP James Arness.