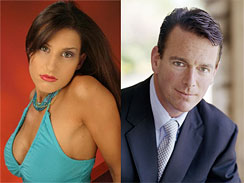 Adrienne Nicole Martin, a young 27 year old woman, was recently found dead a day before Christmas
Authorities found her body within the residency of August Busch IV, who's great, great grandfather founded the company which would eventually bring the world Bud.
Cops found her body at the beer heir. The lawyer representing beer heir has been stressing that the client(August Bush) has nothing to do with the dead of Nicole Martin.
An autopsy of Adrienne Nicole Martin was conducted, though it will take some time before results are available. It has been suggested by some that Martin committed suicide, though there was no trauma on her body. It is not known why the woman may have wanted to take her own life.
She was a model by profession, and as shared with one internet model website, was looking to appear in beer commercials, an interest which may have first her into the company of Busch. Martin is survived by her only child.
Who is August Busch?
August Busch, 46, was chief executive at Anheuser-Busch from 2006 until the maker of Budweiser, Bud Light and other beers was purchased by InBev in 2008. The $52 billion merger created the world's largest brewery. Busch remains a member of the board of directors for InBev.
Equicknews tells us that, August Busch was involved in similar type of incident back in 1980's where his female companion traveling with him met with an accident and died. August Busch was not called for trail because a key evidence was destroyed.
Hmmm, sounds interesting.  I assume the cops are waiting to get the autopsy report of Nicole Martin to really understand what happened.