World is facing the worst Hunger period now, the concerns of UN agency shows that. It has been found that nearly 1 billion people are hunger or undernourished, meaning that they are not getting the full 1800 calories a day. This is an 11 percent increase in hunger rate from last year thanks to the financial downturn the world is facing at present.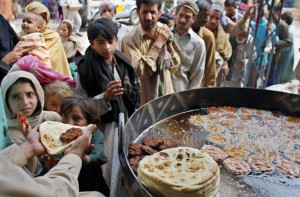 The main concern of UN is almost everyone who is undernourished are from the developing countries and to an extent few from the developed countries. "The silent hunger crisis, affecting one-sixth of all of humanity, poses a serious risk for world peace and security," said the agency's Director-General Jacques Diouf.
It is well known that the rise in food prices caused a big riots in developing countries, and in  India the government was forced to cut the critical VAT rate, a key factor for determining tax on food prices. But this didn't bring the rising food prices to end. The inflation in India which was 13% at the mid 2008 is now at an unbelievable rate of minus 1 and below.
Cheez, the world has gone to much terrible position and is really the situation looks out of hand. Hunger increased despite strong 2009 cereal production, and a mild retreat in food prices from the highs of mid-2008. However, average prices at the end of last year were still 24 percent higher in real terms than in 2006, FAO said.
As declines in Foreign investment increased and the frequent job cuts in USA and all countries, millions of people are predicted to return to the countryside. This indicates the people living in City and other urban places are most hardest hit.
The reports that was taken across  the globe estimates that Asia and pacific region sees the hunger rate of about 642 million . The highest rate of hunger goes to the Sub Sahara region was about 265 million people are affected and is hunger. This region alone contributes 32% hunger which immediately requires  International Help and Aid.
The Crisis of low pay and Job cuts has forced people to buy cheaper food which they are not used to earlier, resulting in undernourished .  If this situation need to be solved , then the government must act fast. The possible things the government can do is, limit job cuts, distribute free food to the needy, lower the prices, create a good awarness program.
The developed nation has a rate of 15 million people hunger now and if not check into the situation. The government will regret in the future as the hunger rate is bound to increase.