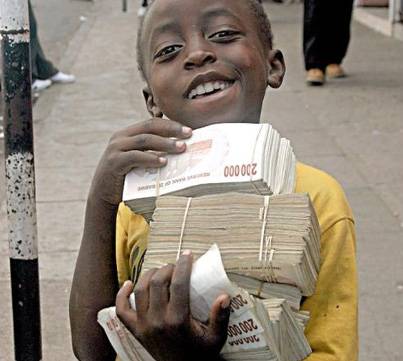 The Zimbabwe Government is broke. It has just $217 left in it's bank account after it has paid last week's salaries.
Zimbabwe actually has the world's largest reserves of plutonium and diamonds. But looks like that is not making the government any richer.
The country's finance minister admitted as much in a press conference on Tuesday. "Last week when we paid civil servants there was $217 [left] in government coffers," Tendai Biti told reporters. "The government finances are in paralysis state at the present moment. We are failing to meet our targets."
Well, financial crisis is not new in Zimbabwe, just a few years back hyperinflation in the  country almost double the price of commodities everyday. The government started printing Z$100 trillion currency notes, which at that time hardly afforded a bread loaf. It peaked in August 2008, when inflation reached 11,200,000 percent and economists around the world started to say that the country's situation was hopeless.
A coalition government was then formed to bring Zimbabwe out of this mess and it has been recovering slowly only to go bankrupt.