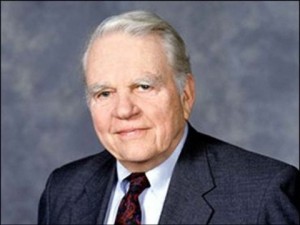 Legendary CBS News commentator Andy Rooney, whose weekly "A Few Minutes with Andy Rooney" commentaries on "60 Minutes" made him a welcome guest in millions of people's homes across the country, died last night in the hospital in New York City of complications following minor surgery.
Born January 14, 1919 in Albany New York, Rooney began his journalism career in the U.S. Army, where he wrote for the Stars & Stripes newspaper during World War II. He would join CBS in 1949 as a writer for a number of entertainment programs, including "Arthur Godfrey's Talent Scouts." He wrote his first essay–a precursor to the sorts of essays he would write for "60 Minutes"–in 1964.
Rooney partnered with CBS correspondent Harry Reasoner to write and produce a number of commentaries from 1964-1968, and served as a producer on the first few seasons of "60 Minutes." His "A Few Minutes with Andy Rooney" segment became a regular feature  in 1978, and it remained a staple of the program until ending it in September.